---
Travel and Hotel Information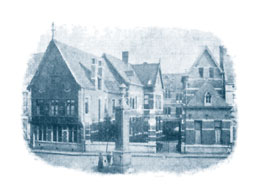 Travel: Leuven is located approximately 25 km east of Belgium's capital city Brussels. The town itself has preserved its charms as an old university town with many of its buildings dating from the Middle Ages. Leuven is 20 minutes from Brussels and only a few hours by train from London, Paris, Amsterdam and Cologne.
Travel by train, via Brussels. By air to Brussels Zaventem airport. The airport connects directly with the train system which links to Brussels (approx. 2.50 Euros) and then Leuven. More about trains to Leuven
Below is a list of affordable hotels in Leuven (30-50 Euros/USD per single room per night). These hotels are located in the centre of Leuven, opposite the train station; they are within walking distance of the conference site. Since there will be a number of other conferences taking place in Leuven in mid-September, and because the number of affordable hotels is limited, we advise you to book a room at your earliest convenience. It is possible to book on-line on the indicated websites.
There is also a limited possibility of B&B accommodation at the Augustinian monastery, 20 Euros per night per single room. The monastery is situated outside of central Leuven, and you will need to take public transport to get to the Institute of Philosophy (a bus leaves every 15 mins. from the nearby bus stop, the ride takes around 5 mins. The last return bus from central Leuven leaves shortly before midnight). If you are interested in this accommodation, send a e-mail to beata.stawarska@hiw.kuleuven.ac.be with your name and the dates of your stay. Due to a limited number of rooms, we cannot guarantee a room for everyone.
---
To catch a train to Leuven from the Brussels Airport, you need to go to thetrain station located at the level below the arrivals area (once in the arrivals area, do not exit the airport but turn right and follow the train station signs, which will take you to the elevator.) Once underground, you will be able to purchase your ticket from the ticketing desks located there. Please note that Belgium is a bilingual country and some of the towns names differ in French and Flemish. You want to buy your ticket to Leuven (Flemish) or Louvain (French), but NOT to Louvain-la-Neuve (another university town). So to avoid confusion, it is easiest to ask for a ticket to Leuven. You will need to change at Brussels to take a connecting train to Leuven. You may get off at any of Brussels' South (Bruxelles Midi/Brussel Zuid), Brussels' Central (Bruxelles Centrale/Brussel Centraal) or Brussels North (Bruxelles Nord/Brussel Noord) to catch your Leuven connection. There is a train leaving every 15-20 min. from Brussels Airport to Brussels Station; the train from Brussels Station to Leuven leaves every half hour. The earliest train from Brussels Airport to Brussels Station leaves at 5.31 am and the latest at 11.41 pm. The first connecting train from Brussels Station (Central) to Leuven leaves at 5.39, arriving in Leuven at 6. 22 am. The last connecting train from Brussels Airport to Brussels Station leaves at 11.41 pm, with the connecting train to Leuven in Brussels Station (Central) at 11.56 pm, arriving in Leuven at 00. 29. You may find all the train connections at the Belgian site or the German site.
If you prefer to take the taxi from Brussels airport, you will need to exit the airport building and hail one of the taxis waiting in front . The ride from Brussels Airport to Leuven will cost you around 50-60 Euro/USD, depending on traffic.
No Frames: Index _/_/_/_/_/ Frames